Welcome Die Antwoord World Wide Fans, do you have your own ZEF STYLZ? Please share your style with Die Antwoord World WIde Fans. Do you make your own ZEF clothing line or just for fun, Please feel free to take advantage of this opportunity to share your talented Zef Stylz with Die Antwoord World Wide Fans. Keep it ZEF, Keep it FRESH!
Last edited by LYD on 07/04/16, 01:58 pm; edited 2 times in total
L¥D
https://www.facebook.com/angie.swihart.9
Angie Waszkiewicz:
"For me ZEF is taking my own skills and visions and putting things together in a way that works for me (and my boyfriend) and expressing my love for the things that we love..... doing it on the cheap, and making it fucking awesome! A torn pair of jeans, a pair of suspenders, some sewing and painting...and BAM! The most Zef toolbelt ever!"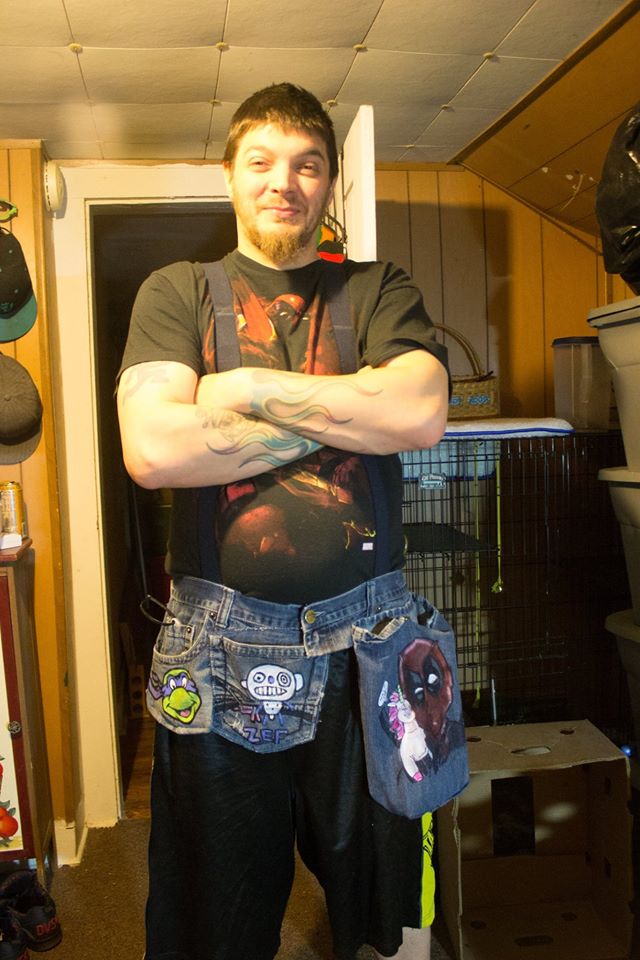 L¥D
Hello! My name's Zoni I run Zef Zoni's Clothing Co. You can click on the link below in my signature =) I also have a pinterest, but basically the same photos are on both sites. So message me if you would like anything! Facebook messaging is probably the fastest. But just so you know I don't have mobile! Ok, let me Explain this concept store:
We all have clothes we used to like and don't want to throw out, well,  

I know how to make them zef! So, you find clothes you do not wear anymore, or thrift shop clothes, whatever. Then you either have your own idea, or I can make you something awesome... It's only 15$ and I'll send your clothing back to you clean, New, updated, however you want, or a total awsum fukin surPRISE!!!    So click on the link if you're interested.
I have new projects coming very soon, like with stencils and such. Everything so far has been free-handed by Your's Truly-
Le Tease Macabre =)
ZONI

ZONI's ZEF clothing line
    <---Click link!!!
Not Zoe, Sony, Sonia, Zooey, Toni, Noni, Loni, Lory, Cory, or Zonia, Thank You very much!
No labels, No genres. No Gods, No Managers. No Beliefs, Just Ideas  

Being normal is so boring!



---
Permissions in this forum:
You
cannot
reply to topics in this forum